Huxley Thomas Baines
Huxley was born on Trafalgar Day, 21st October 2013 to our Grandson Nick and his lovely wife Emma.
He was due on the 26th October but decided to appear on Trafalgar Day, we like to think it was a sign that Tom was sending us a message, as he was a fan of all things to do with Admiral Nelson.
The Marriage of Neilé Baines & Luke Hoare

took place on Saturday the 6th April 2013

at St. John the Evangelist

Holdenhurst Village

Ferndown

born 11th May 2012
Daughter of Neilé and Luke
Elsie is the third great grandchild for Tom and I.

Neilé is the daughter of our eldest daughter Tracy and her husband Neil.

Neilé and Luke have a baby on the way (a boy) due in early 2014.

Tracy and Neil's son Nick and his wife Emma are expecting their first baby on the 26th October 2013.

And so it goes on!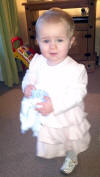 born 15th December 2011
Second great grandchild for Tom and I.

Daughter of Roxie and Jacko, sister to Taylor.
Oliver John Skudder
born 3lst August 2009 - 7lb 1oz
in Australia

Oliver with his Grandma, Daddy, sister Jasmine and cousin Rory
another Great Grandchild for Eva
Congratulations to all!!
TAYLOR DAVID JACKSON
was born at 4.15 pm on the 2nd August 2009 weighing 7lb 1˝oz
Congratulations to Roxie and Jacko the proud parents
Lots of Love from
Great Grandpa Baldy and Great Grandma Noddy

Taryn J Lee
Taryn is now a Judge. Out of over four hundred applicants last year Taryn was one of 15 chosen to be Judges on the Northern Circuit. On the 18th March 2009 her husband Andrew, Tom and I went to Leeds to witness her swearing in as a Judge and we were bursting with pride. She has worked hard over the years and put her heart and soul into her chosen career and with the support of Andrew and her sister Dianne making sure her two precious children Talia and Tom were cared for whilst she went onwards and upwards, it has been quite something to watch and be part of it happening. We are very blessed.
These are a few informal photos taken after the ceremony
1. Taryn with Judge Peter Collier,
2. Group of New Judges,
3. Andrew, Tom & I with Taryn,
Thanks to the generosity of Neil and Tracy, and much organization by Neil, Tracy, Carla and all who helped to make our holiday in Merida such a wonderful, unforgettable holiday. First we stayed at the Presidente INTERCONTINENTAL Hotel in Merida and then celebrated Neil's Official Birthday at a wonderful Hacienda on the outskirts of Merida (all the pathway lit up by lights, drinks as you entered, music playing, people attending to your every whim and all under the stars, 3 orchestras in total. "Perfect". Then on to the Beach House for a week, all 19 of us (Tracy & Neil, Neil's son Anthony
and his wife Mandy, Neil and Tracy's son Nick and his wife Emma, daughter Neilé and her boyfriend Sam. Taryn and Andy and their two children Talia and Tom. Dianne and Nick and their two children Olivia and Ruby and Dianne's daughter Roxanne and of course Tom and I) It was Paradise, a fantastic house with separate apartments and small houses in the grounds plus a very large pool and a place at the side of the pool where we could sit at tables to eat etc. or curl up in comfortable chairs to relax together. Anita who made sure we had everything we wanted, changing and making our beds, cleaning up after us etc. and guards on duty at all times. The wonderful beach was a few steps from the pool and we watched the local fishermen in their small boats fishing by dragging their nets along. Wonderful walks along the beach, eating out in the evening at superb restaurants, I could go on and on. We also celebrated Neil's real 60th birthday there on the 23rd February 2009 and a fantastic time was had by all. Neil then transported us all to the old town in Merida where we stayed at a wonderful, charming hotel The Casa Del Balam where we mixed in with all the activities that were happening, and superb shopping for Mayan made blankets, jewellery etc. Tommy celebrated his birthday on the 28th February 2009 at Pancho's Restaurant in the old town where we all sat outside under the stars and enjoyed a sumptuous meal. Then back to the Intercontinental Hotel in Merida for the last few days. Besides all the numerous activities and partying we then went for a day to Chichen-Itza which is one of the Wonders of the World. It is all the history and buildings of the ancient Mayan people and we had a wonderful day together. On our last day Taryn and Mandy celebrated their birthday on the 4th March 2009 and we had a celebration meal and then had to pack and make sure we were in the hotel foyer at 5.00 am for the journey home.
Photos are of the Beach House, relaxing in the open lounge, All of us as Chichen-Itza (minus Neil who had to work)
All the girls in Old Town Merida, Kids in Hotel, Neil and his Three Kids, Girls on Balcony of Neil's Suite in International Hotel,

Boys on Hotel Balcony, Group joining in the celebration parade in Merida

As you can see we all had a Wonderful Time and then we had to come back to reality.

Senor Neil Baines "Weaver of Dreams"
Oh, I nearly forgot, Neil's Birthday hit the Society Pages of the Diario de Yucatain Newspaper
TOMMY'S TUCKER
Latest news from the Chef
Tommy is excelling himself with each recipe he turns out. There is no end to his talents in the kitchen.
He calls Joan over to the cooker every few minutes to show her how well everything is turning out and especially
when he is roasting a chicken and she has to say how wonderful it looks.
I think we may be in for quite a mixture of stir fries as he has just acquired some new 'stir fry' recipes.
____________________________________
LATEST NEWS
Whilst we were in Spain in May 2003 Tom cooked breakfast for us every day (10 in total) and did some evening meals as well,
if we weren't eating out.
There is no end to his new found talents - he even cleaned some of the windows the other day!!!
Tom & I went to Spain again in August for two weeks and he excelled himself again in cooking meals.
______________________________________
Joan is still enjoying sitting with her feet up and waiting for the Dinner Gong to sound!
I've been told by Neilé and Roxy that the details I put on the website about them are boring so I am going to liven it up for them.
Talia has now got into the act and I have to update her latest news.
Roxy and Neilé have both been accepted as as singer/actress - Roxy and a model/actress - Neilé, and they are inundated with offers and are having to turn some down. Talia has been offered a modelling position with Roberto Cavali and she can't make up her mind whether to accept or not!!!!!
They have just got back from Hollywood where they met Tom Cruise, Brad Pitt, Justin Timberlake, Brittney Spears and many others. They were rushed over to Chicago and appeared on the Oprah Winfrey show.
They are also appearing at Disney's Magic Kingdom and will be playing lots of different parts - Lizzie McGuire, Snow White, The Mermaid, Peter Pan, etc. They are having difficulty keeping Tom and Olivia from getting in on the act, but they are into Power Rangers.
Simon Cowell has said what an incredibly talented bunch they are and they should go far - he didn't mention how far!!
We look forward to seeing them in their new movies, TV roles, books they have written etc. Their talent knows no bounds!!!
See you at "THE OSCARS" kids.

Whilst we were in Florida at Christmas Roxie took part in The Lion King Show at Disney. We had to do an impression of a lion roaring and the audience were terrified when she did her roar!!!!!!

Roxie is a whizz on the computer and enjoys listening to her music whilst on line and singing at the top of her voice - oblivious to whoever is in the house at the time.

The photo above is of Neile` on the patio in Spain. She is still keeping on with her piano lessons and percussion. She is also involved in all sorts of activities after school, youth club etc.

She came to visit us for the weekend of the 12th February 2004 to celebrate Auntie Di's 40th Birthday, she always is very happy to see her Grandma Noddy and Grandpa Baldy and she usually has an expression on her face similar to the one above when she sees us.
GRIMSBY

Andrew

The 'SOLE' Proprieter

This is the 'PLAICE' to get your fresh, quality fish.

Visit them on the Docks at Grimsby and you will be served by a very happy staff
THE BUILDER

Nick's your man for all the building jobs, large or small.

A very happy chappy.

When he's not constructing he's diving.
© 2001 Grandma Noddy