Biographical Information
The early part of the Evans Family Tree is made possible through the painstaking hard work of our relative -
Anne Long

Australia

Email: ma_long@bigpond.com
These are photographs Anne has sent to me of her side of the family who were descended from Thomas Peter Evans.
Emily Elizabeth Long [daughter of Sarah Elizabeth Evans and Joseph Myatt ] with her daughter Dorothy born in 1901. Emily was widowed in 1908.

l to r: Jan Wright [Long], Graham Long (Anne's brother], Anne, Jenny Williams, Alf Matjac, Jean Dodd

All relatives.
I am still working on this page so bear with me.......

Special thanks to Gary Evans (cousin) he is trawling the internet and generously passing on any information he finds and has paid out money to www.Ancestry.com and others, and spent hours on his computer (just like Anne in Australia) and both are pleased and happy to inform the rest of us with what they discover.
Thomas Evans (b. 27th August 1745) married Elizabeth Rusbatch 7th July 1775 and (most likely their son) a Thomas Evans (b. 26th November 1779) married Mary Davis (b. 7th February 1777) on the 25th July 1802 which appears to lead to their son Thomas Peter Evans born 25th November 1808 in Bethnal Green.
The earliest that I know of my ancestors (thanks to Anne Long) is Thomas Peter Evans (son of Thomas and Mary Evans) born 25th November 1808 in Bethnal Green or Shoreditch, London, U.K. and died 4th January 1887 in 13 Worsley Buildings, Grimsby, Lincolnshire. (Whether he was born into a fishing family is not known yet, but Thomas was a fisherman at Barking in Essex up to about 1860 when he and his family moved north to Grimsby, Lincolnshire, quite a lot of fishing families from this area moved north when the railway was constructed and made commercial fishing in the North Sea viable) He married Sarah Baxter. She was born about 1811 in Barking, Essex and died 13th December 1875 in 13 Worsley Buildings, Grimsby, Lincolnshire. They had 8 children (3 sons and 5 daughters). They were Thomas Baxter, Sarah Elizabeth, Elizabeth Ann, Mary Ann, Ann Eliza, Eliza Sarah, Alfred William, Ruth Amelia and Alonzo William. All survived to adulthood.
Their son Thomas Baxter born 1833 in Barking Essex, died 25th September 1860 in Worsley Buildings, Grimsby. He married Caroline Spurgeon on 7th December 1855 in Great Yarmouth, Norfolk.
They had a son Thomas Peter Evans - born 5th December 1856 in Gorleston, Suffolk

(This certificate was kindly sent to me by Nina Bell)
A daughter Caroline Evans born 1859 died 19th February 1860 in Grimsby buried in St. Mary & St. James, Grimsby,
A son Alfred Samuel Evans (my Great Grandfather) born in 1860, died in 1944. He married Catherine Wilkinson, daughter of John and Caroline Wilkinson on the 11th September 1895 in Great Yarmouth, Norfolk.
They had 11 children - (+1)
Thanks to Gary digging through the archives we have discovered another child born to Alfred and Catherine and he is -
Alfred Evans born on the sixth of August 1880 and died on the sixth of August 1880 (he lived for just 12 hours) he didn't live long but nevertheless he was the first born and brother to the following. (Gary has obtained copies of Birth and Death Certificates for Alfred)
Catherine Annie Evans (Carrie) born 12th September 1882 in Gorleston.
Married Arthur Albert Brown Swallow on 31st July 1902.

Albert was born in 1880 in Grimsby and died in 1947 in Grimsby.
They had four children - Frederick, Arthur, Alfred Gordon born 30.04.1907 and died on 12.09.1981, and George born in 1908 and died in 1944.

Arthur Swallow [son of Catherine & Arthur] his wife Doris and son George
Alice Emma Evans born 1885 in Gorleston Married Richard Henry Merry on 31st December 1903, they had five children Alice, Clara, Bernard (Bunny), Ivy --?
Alfred Samuel Evans born 8th May 1888 (click here my Grandfather for details) in Gorleston
Thomas Baxter Evans born 1890 in Gorleston Married Eva Loftis (b. 1895) on 9th December 1908 they had one son John (died an infant)
The photo's of Tom in uniform were when he was in Malta.
On the back of one the words " With Love for my Darling Girl"
Photo1 - Alfred Loftus [brother of Aunt Eva]

Photo 2 - Eva [Loftus] Evans naming 'Brimness' , Icelandic Skipper Jon Oddson [brother-in-law to Eva] & owner of new trawler 1st February 1934]

and Eva's father

photo's supplied by Cavell of her beloved 'Eda' and 'Obie'
George born 1893 in Gorleston went to America as a young man and died there. No record of him ever marrying or any children. George left England in 1918 and sailed to New York. He was knocked down by a tram and lost a leg. He then went to Chicago where he worked for the Standard Oil Company on barges, ferrying bulk oil between Texas and Chicago. George died in 1945.
(This information came from Sue Whitty - thanks Sue)
Ruth born 2nd August 1894 in Gorleston (died December 1975) married Ernest Carlyle Smith (born 1891 Boston Lincolnshire - died 11th October 1915) on 21st November 1912 in Grimsby on 21st November 1912 in Grimsby (He was Chief Engineer in the Mercantile Marine on board the Steam Trawler "Fitzroy" when he died). Ruth (now a widow) married George Barker on the 23rd March 1920 (George died on the 23rd March 1934 on the "Star Of The Realm") they had one son John Derek Barker (born 23rd January 1930)
John (Jack) Trawler Skipper and Director for many years of Grimsby Town Football Club
[born 23rd November 1896 in Gorleston - died February 1988 in Cleethorpes]
married Rene [Irene Cochrane born 10th April 1903 - died June 1988 in Cleethorpes]
they married in 1926 and had one daughter -

Alma (b. 26.09.30) who married Peter Kendall (b. 05.09.35) (now deceased) on the
17th November 1950 at St. Peter's Church, Cleethorpes.

They have two children -

John Duncan (b. 19.07.62) married Sharon Helgeson (b. 13.03.60)

Louise Mary Kendall (b.22.04.1964 ) married Michael Gott (b. 28.02. ) on the 14th November 19..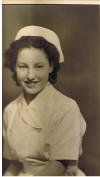 Alma Evans
daughter of Jack and Rene Evans
Emma born February 1899 born February 1899 in Gorleston
Frederick Albert born February 1901 in Stanley Street, Grimsby
died 5th July 1902
Frederick Richard born January 1903 in Stanley Street, Grimsby
died 9th September 1903
[Kathy in Canada has since sent me some dates of a Thomas Evans (b. 27th August 1745) married Elizabeth Rusbatch 7th July 1775 and (most likely their son) a Thomas Evans (b. 26th November 1779) married Mary Davis (b. 7th February 1777) on the 25th July 1802 which appears to lead to their son Thomas Peter Evans born 25th November 1808 in Bethnal Green, as above. So we are getting even further back into the 1700's.]
Many thanks Kathy.
I understand from Kathy that she got this extra information from another relative Nina Bell. Thanks Nina.
Also thanks to cousin Gary Evans who sent me an email to tell me he had found details of our family on w.w.w.Ancestry.com whilst searching for information on Thomas Baxter Evans. This of course led to Anne Long.

'Fishermen's Memorial'

St. James Square, Grimsby

(Photo by Gary Evans)
My Grandfather

Born 8th May1888 at 77 Lower Cliff Road in Gorleston, Suffolk

Died in Cleethorpes

14th February 1962

My Grandmother

(nee Dawkins-Farman)

Born 18th March1887

in Gorleston, Suffolk

Died in Cleethorpes

11th March 1969
They were married on the 7th June 1911 at St. Aidan's Church, Grimsby.
1st Photo: Back - Alf, John, Grandad

Front - Cavell, Lettie, Jim Tom, Gran, Marieam
2nd Photo: Back left to right: Maream Rebecca, James Stephen, Alfred Samuel, John Clarence, Gylettie Emma
Seated left to right: Grandfather - Alfred Samuel Evans, Jean Eva, Thomas Baxter, Edith Cavell, Grandmother - Gylettie Emma Evans (nee Dawkins-Farman)
Gran and Granddad with baby Jean, according to Kathy.

Photo kindly emailed to me by Kathy in Canada

Presentation to Granddad & Gran with regard to the Trawler being named after their youngest daughter 'Jean Eva'
Left to right - 'Buller' Bevers, 'Nutty' Arthur Nuttal, .. ?, Mum, Grandad, .....?, Gran, ......Marriot I believe, ....?

"Cleveland"

Gran and Granddad's Home in New Waltham

Where I lived from 3 years old until I was 14. I had a wonderful childhood there but I don't think it was the same for my mother - she always seemed to be working.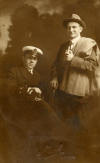 Photograph of Grandad taken in Larne, Ireland when he was a young man. I remember Gran saying she joined him there, I don't know if she had Alf and my Mother at the time or just Alf.

I don't know who the gentleman on his right is.

This photograph came to me from Gary via Ray.
Gran's name 'Gylettie' came from her Aunt Gylettie so it goes as far back as at least 1850 to 1860 and maybe before that. Gran did say she thought someone had seen it on a Portuguese sailing ship. My mother was named after her - Gylettie Emma and Uncle Alf's eldest daughter was also named Gylettie Emma, I was given Gylettie as a second name, as was Wanda. My daughter Taryn has named her daughter Talia Gylettie (who is now 10 years old) so it looks as if the name will be going for a good few years yet.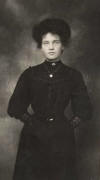 Gran when she was young
Great Aunt Gylettie Jane Chaney

of Hemsby, Norfolk

The marriage certificate of Gelettie Chaney to Arthur James King Nicholls in Hemsby on the 11th February 1894.

The birth certificate of Gelettie May King [known familiarly as May] daughter of Gelettie [Chayney] and Arthur King Nicholls. May married John Roan and they lived in Peterborough and were Market Gardeners.
[These certificates are provided by Garry Evans and Garry is also in touch with Rob Roan who is a grandson of May]
Grandmother's Father was James Dawkins Farman born 7th October 1858 [Father William Dawkins Farman, Mother Marian Wright in Gorleston]. Her mother was Elizabeth Rebecca (Chayney) Dawkins Farman and she died 4th April 1929 in Hemsby.

left to right: Gran, her son Alfred, her Father James Dawkins Farman, John Bore, Ethel Bore (Gran's sister)
Gran had 7 brothers and sisters -
Ethel Farman who married John Bore, brother of Walter, Charles, Douglas & Albert

[they had 8 children] -

Ethel, Bernadine who married Roy McDonald, [who was the half brother of Bill Smith Aunt Cavell's husband], Betty, Maureen, John, Jim, Danny, Alfred,
Jane Farman married Joe Favell [no children]
Ruth Farman remained single
James Farman married Gladys [they had two children - James and Gladys]
Stephen Farman married Emmie [they had three children - Emmie, Joy and Steven]
Samuel Farman married Stella Chayney [no children],
Alice Farman married Albert Gedling they lived in South Shields [they had five children - Steven, Norman, Albert, Edith & Alice] Updated information on the Gedling family from Peter Gedling (son of Albert - Albert is now 92 and the only surviving sibling)
born 19th February 1912

Skipper of the St. Leicestershire and was lost with all hands off the Orkneys, Scotland

on the 28th January 1938

Married Lillian McDonough

(b. 1909 died 17.05.1981)

on the 22nd May 1934 at Old Clee Church

They had two daughters -

Gylettie Emma & Alfreda Eva

[Alfreda born born 6 weeks after the loss of her father Alf]

Lillian was already a widow when she married Alf having lost her first husband at sea also. She had two small children Sidney (married to Het and lives in Wales with his family) Lillian who went to America as a young woman married and had a family and died there in the 1960's. Lillian then had Lettie, Alfreda, John Evans (b. 15th July) (who is married to Wendy and with their family have lived in Canada for many years. Married again to Bill Donovan and had three children Shaun, Michael and Lynn.

Uncle Alf on the right

Gylettie Emma Evans (b.31.12.1934)

Peter was a trawler skipper and just before the demise of the Deep Sea Fishing Industry they moved down to Devon having bought a small hotel and Lettie ran it whilst Peter still kept on fishing and then over the years they owned licensed properties in Devon, Somerset and Wales and now have retired.

They have four children -

PeterMay (b. ) is married and his wife and children live in Devon and Peter is in the Navy.

Deborah May (b. 13.04.1961) - one daughter - Naomi

Tracy married John they have three daughters

Robert is married and lives in New Zealand with his wife and children. Now Robert and family live in Australia.

Alfreda Eva Evans (b. 13.03.1938)

Married Andreas Jensen (divorced)

They have four children -

Alfreda has spent the past 35-40 years as a business woman many years as a Beautician and even more years as a Naturopathic practitioner healing and helping many people (my own family included - I don't know what we would do without her)

Alfreda sadly died October 2008.

Much missed by us all.

Vivienne Jensen

(b. 24.12.1959)

- 1 daughter -

Yasmin (b.4th June 1981)

___________________________

David Jensen(b. 31.05.1961)

married to Hilary (b.04.10.19..) they have 4 children -

Holly, Daisy, Florence & Inigo

__________________________

Allyson Jensen-Treloar

(b. 09.12.1963)married Conway Treloar (b. 05.05.1971) 0n the 13th August 2004

they have three children -

Lillian Eva (known as Lilly) (b. 16.04.1990)

Max Thurston (b. 16.07.2001)

Fynn William (b. 21.05.2004)

_________________________

Evan Alfred Jensen (b. 24.04.1966) who is single at present.
My Mother

(born 14th February 1914)

(died 18th March 1982)

[l to r back - Marieam, Ted Meadows, James Meadows, Gylettie, Alfred Evans, Cavell Evans

front l - r Bernadine Bore & Jean Eva]

Married my Father - James William Rudder Meadows (b. 29th January 1905) [son of James Meadows and Ann Tennant Rudder(Gimpton)] no siblings.

On the 19th February 1934 at Old Clee Church

My father was killed at Lowestoft (bombed) on the 9th April 1941 whilst on his way back to join his ship (he was Chief Petty Officer in the Navy).

The telegram informing my mother of my father's death.

I never knew my father's mother as she was accidentally burned to death when my father was 7 years old and I believe he witnessed it.

More on the story of Ann Tennant Gimpton

My father's family came from Lowestoft, Suffolk to Grimsby and my father's mother (family name Gimpton) came to Grimsby via Brixham in Devon.

John William

(born 11th July 1934

Married Jean Ann Christoffersen (divorced)

They have three children:

John was a Successful Trawler Skipper and had command of the "Ross Revenge" and broke record after record with her. When the fishing Industry was decimated he went to Spain for a number of years and then spent time in the Gulf.

John

"Ross Revenge"

Sharon Jean (b. 21.12.1956) married to Fraser Leddie (from Dundee) and they have one daughter Emma and live in New Zealand

Emma in New Zealand

John William (born 9th April 1959) married to Tanya and they have one daughter Amber

Kristina (born 20th July 1960) married Gary Newson [deceased] they have one son - Paul (b. 30.11.85)

Married Thomas Edwin Lee (b. 28.02.1936) [son of Ernest (born in Headingley, Yorkshire) & Ena [Elliott] Lee, brother of Dorothy, Uncle of Keith (deceased), Peter, Mark & Allison

On the 30th March 1957 at Old Clee Church

and we have three daughters -

Tom was a Gas Fitter/ Plumber until we went into the Pub and Club Trade. We spent over 30 years in the trade and had The Sands Club along the promenade in Cleethorpes for many happy years.

We had some great acts over the years and wonderful times with staff, customers & artists.

We then had The Casablanca Club in Grimsby until we retired.

Tracy Francine

(b. 30th January 1961)

Married Neil Anthony Baines

(b. 23rd February 1949)

[son of Ken & Peggy Baines of Derby, brother of Nicholas (deceased) and Kevin]

On the 15th August 1984

They have two children:

Nicholas Lee

(b. 7th January 1985)

Neile` Danielle

(b. 26th November 1989)

Neil has another son -

Anthony Nicholas (Special) (b. 6th September 19..) who has just married Amanda on the 26th September 2004

Dianne Elizabeth

(b. 12th February 1964)

married Michael Woodhouse (b. 18.03.57) now divorced [son of Bernard & Vera Woodhouse, brother of Susan, Jill & Kevin

They have two daughters:

Luanne Stacey

(b. 20th December 1984)

Roxanne Emma

(b. 31st October 1989)

_________________________

Married Nicholas Lee Smith

(b. 25th April 1968) [son of Ken (deceased) and Roz Smith, brother of Mike and Laura]

They have two daughters:

Olivia Laura

(b. 26th May 2001)

Ruby Joan

(b. 14th November 2004)

Taryn Jane LLB(Hons), QC

(b. 4th March 1968)

Married Andrew Skudder

(b. 10th July 1964 [son of Tom & Eva Skudder, brother of John (Australia), David, Peter, Steven & Paul]

on the 9th July 1994

and they have two children:

Talia Gylettie

(b. 31st July 1996)

Thomas Andrew

(b. 26th October 2000)
(b. October 1915 )

Married Albert Victor Meech (b. )

brother of Tom, Matt, Rhoda, Eileen

Trawler Skipper

on the 17th December 1935 at Old Clee Church

Left to right: Mrs. Meech, Jean in front, Uncle Bill next to Uncle Albert, Granddad to side of Aunt Marieam, Gran seated, Aunt Cavell behind, Gran's father at her side.

They had two children -

Albert (b. ) married June

They have a son Paul

Marina Meech & Bill Hanley
Edith Cavell Evans (b. 11.12.1917)

[l to r - ??, Alfred Evans, Jean Eva, Bill Smith, Cavell Evans, ??, ??, Gylettie Evans, Mrs. Smith I suppose]

Married William Smith (b 21.07.08)

(died 1977) Son of James and Edith Smith (nee Woodhouse) brother of Rene, Evelyn

on the 21st July 1937 at Old Clee Church

They had three children -

Bill was a fisherman who unfortunately because of colour blindness could never make it to Mate or Skipper because of this.

They later ran the Ormond Club at New Waltham which is now I believe The Farmhouse.

Cavell and Bill divorced.

William Alfred Evans Smith (b. )

Married Betty (b. )

They have four children -

David William (b. 27.02.1962)

Beverley Tracey (b.24.04.1966)

Alison Emmerson (b.08.10.68)

Martin Graham (b.24.10.68)

David William Smith(b.27.02.1962)

David is married to Clare and

they have three children -

Danielle Louse (b.12.03.1986)

Zoe Ann (b.01.02.1988)

James William (b.31.10.91)

Married Don Shepherd (b.25.08.1937)

at St. James Church Grimsby 22nd May 1961.

They have two daughters -

Donna Louise Shepherd

(b. 25.11.65)

Married

Robert Martin Thompson

St. Matthews Church, New Waltham 28th August 1989

They have two children -

Bethany Jordan

(b. 05.03.94)

Reece Anthony Robert (b.28.01.98)

______________________

Joanne Shepherd (b. 27.10.69)

Married

Simon Charles Bradley

St. Peters Church, Humberston

17th October 1992

They have one son

Charlie Brandon (b. 24.07.99)

Eva Smith

(b. 13th May 1941)

Married Ian Botham 25.06.60

(divorced 16.12.76))

Married Roland William Broughton

(b. 06.11.31) on the 19th March 1977.

A wonderful man who passed away on 20th September 2002. Eva never did manage to have a child but through Roland she is step Mum to a boy and a girl who have given her 5 grandchildren to love and treasure.

Cavell married Cyril Reginald Wilson Morris (b. 19.11.14) - "Charles"

on 3rd February 1964.

They spent many happy, loving years together until he died.

They had one daughter -

Charmaine Elizabeth Maria Morris (as a toddler)

(b. 27.02.1964)

Charmaine spends most of her time working in Greece and has done for many years now.
James Stephen (b. 05.01.1920)

Married Elizabeth Leo (b. ) sister of Madge & Evelyn

[l to r back- Cavell, Grandad, Gran, ??, Jean Eva, Tom Evans, Jim Evans,??, Betty Leo, Marieam Evans, Mr. Leo, Evelyn Leo??, ??, Lily Evans, Gylettie Evans

l to r front - Billy Smith, Pauline Carsberg, Joan Meadows (Me) ??, ??, Alfreda Evans, John Meadows]

They had two children -

Jim was a Trawler Skipper and he and Betty had a long and happy life together, and their two kids together with their families meant everything to them.

Alfred Evans (b. )

Susan Elizabeth Evans (b. )

Married Graham Smith (b. ) on the 3rd September 1966 at Old Clee Church

They have three children -

Amanda

Jarred

Robert??
(b.13th April 1922)

(died 24.12.1974)

[l to r back - Mary Christmas?, John Evans, May Dunsmore, Tom Evans, Sylvia Mogg, Henry 'Buller' Bevers

l to r front - Cavell Smith, Joan Meadows]

Married

May Robertson Dunsmore (b. 05.08.1922)

in Morningtown, Alanton, Scotland, (died 23.05.1970)

sister of Kathie, Annie......

on the 23rd November 1942

Click on News from Scotland

They had seven children -

John was a Trawler Skipper and met May (from Allanton, Scotland) during the war and married. John was in the Navy and May was in the A.T.S. Tragically May died when Debbie was just a small child and John died less than four years later but they have left behind some wonderful kids who are a pleasure to spend time with.

Wanda Gylettie Evans

(b. 25.08.1943)

Married Roy Langley (b. ) on the 14th August 1965 at Old Clee Church

They have two sons -

Scott John Langley(b. 07.11.66)

married Sarah Jayne Sandford (b.29.04.67) at Stallingborough Grange on the 12th November 2005.

They have two children -

Aaron Scott (b. 26.04.88)

Amy Lavaine (b. 11.11.03)

Also Daisy Sandford-Langley born & died 18.05.01

l-r:Roy Frederick Langley(Dad), Craig Roy (brother), Wanda Gylettie(Mum), Scott John Langley, Sarah Jane(Sandford)Langley, their son Aaron Scott Langley, Sarah's Mum Margaret Mary Cox, Sisters Julie & Leslie.

l-r:Sarah's Gt. nephew Callam, Scott's Neice Beth (Craig's daughter) Daughter Amy Lavaine Langley

Craig Roy (b. 23.06.74)

daughter Beth (b. 25.08.01) also another daughter

Evie Grace (b. 08.01.05)

Margaret Patricia Stewart Evans (b. 22.11.44)

Married Graham Skelton

They have one daughter -

Kerry Anne (b. 14.04.70)

May Dunsmore Evans (b. 24.05.47)

Married

Michael Andrew Overend

(b. 08.08.47)

They have three children

Karl Andrew (b. 07.12.67)

Kurt Spenser (b. 11.07.71)

Michelle Louise (b. 03.07.73)

John Evans (b. 05.06.49)

________________________

married Carol Ann Hodson (05.07.69) [divorced 14.12.73]

________________________

Married Catherine Wright

(b.02.11.50) on the 12th July 78

They have two children -

Lee William Wright

(b. 10.04.70)

Married Gillian Margaret Wilson (b. 12.09.71) on the 12.08.95 they have one daughter Lauren Amy Wright (b. 27.01.98)

______________

Philip John Evans (b. 13.03.76) with Partner Helen Taylor

(b. 06.11.78)

Stewart Robertson Evans (b.16.01.51)

Marilyn June Evans

(Born June 1954)

(Died December 1954)

Debra Ann Evans (b.15.09.63)

Wayne (b. 30.06.81) died 19th October 1981

Steven John (b. 16.12.83)

Darren Joseph (b. 14.03.86)

Emma-Leigh (b. 26.08.89)

Joshua Luke (b. 28.07.94)
Thomas Baxter (b.12th June 1923)

[l to r front - Vera McLeod (nee Webb), Jean Eva, Tom Evans, Sylvia Mogg, Bill Smith, Jean Mogg, Nancy Morteboy

l to r front - Marina Meech, Joan Meadows, Cavell Smith, Shirley Mogg]

Married Sylvia Joyce Mogg (b. 9th July 1924) daughter of William & Millicent Mogg, sister of Leslie, Jean, Shirley, Kenneth & William

on the 24th August 1943 at Old Clee Church, Grimsby.

They had four children -

Tom was a successful Skipper and had command of some fine vessels. He died in Spain in his 50's and left Sylvia a widow and was much missed by her and their children.

Tayne' is a a great and dear friend of my kids and is much loved by us all.

Click on More Family News for more detailed comments from Gareth.

Raymond William Evans (b.24.01.1945)

Married Janet Anne Bartlett

(b. 6.07.1944)

on 23rd March 1965 at

St. James Church, Grimsby

They have three children -

Simon Evans (b.01.01.1966)

Married Julie Howson (b.12.03.1962) (nee Brown)

on 24.10.2000) at St. Aidan's Church, Cleethorpes.

Julie has 2 children from her first marriage -

Trevor & Rachel Howson

Lindsay Evans

(b. 07.08.1969) single

Samantha Louise Evans

(b. 09.10.1971)

Lives with her partner Kelly

Gareth Thomas Evans (b.30.12.1947)

Gary with Lucy (Lindsay & Sue's Dog) at Lindsay & Sue's home

January 2005

Lindsay Kenneth Evans

(b. 18.07.1953)

Married Susan Robertson

(b. 06.01.1952)

on 15th September 1973 at

St. James Church, Grimsby

Lindsay

is a Black Belt 5th Dan and is the Chief Instructor in the art of Ju Jitsu for the area around Grimsby & Cleethorpes. He has been practicing martial arts since about the age of 10.

Tayné Millicent Evans

(b. 17.06.1960) (d.19.11.07)

Tayné

Those who share their laughter and their smiles with everyone

and help others feel a sense of their own worth

are God's Own
(b. 25.08.1927)

married Thomas Joseph Victory (divorced)

They had five children:

Tom came from Dublin and volunteered to fight in World War II in the RAF.

He came from a lovely family in Ireland (son of Tom & Frances Bridget Victory) brother to Kay, Frances, Marie, Saemus & Joseph. Tom & I went to visit them in Dublin in the 50's when we were just 18.

Thomas Alfred

(b. .11.1945 )

married Christine Spencer on the 6th August 1966 at Corpus Christi Church (now divorced).

They have three children:

Tom has now married Sylvia Margret on the 19th November 1993

Joanne (b.16.11.1967) married Jason Franklin on 25th May 1991 in York they have two children -

Daniel Joshua Franklin (b. 19.06.1994)

Hannah Grace Franklin

(b. 07.03.1998)

Jean married Albert John Freer

(b. 12.11.1925)

on 2nd May 1964 at Grimsby Reg. Office

John & Jean were together over 30 years and he was 'One In A Million' to them all and Jean couldn't have wished for anyone better to love and cherish her.

"When someone believes in you anything is possible"

John

From all his Grandchildren

Jean Eva

This poem was emailed to me by Kathy (Canada)

I understand it was put together (wonderfully) by Joanne on behalf of all Jean's children, grandchildren and great grandchildren.

If I have missed anyone's name out on behalf of who put these poems together perhaps you will let me know.

Kim Christine (b. 27.06.1969) married Martin Dowling on the 27th June 2001 at Gretna Green they have two children

Oliver Thomas Victory-Dowling

(b. 13.12.1993)

Taylor James Victory-Dowling

(b. 23.11.1996)

Kerry Ann (b. 27.06.1969) married Neil Faulkner on the 30th September 1995 at Humberston they have one child -

Thomas Alfred Victory-Faulkner

(b. 26.02.2003)

Marie Francoise (b.18.02.1947)

married Bernard White (divorced)

They have three children:

Karl David White

(b. 06.03.1968)

Rachael Marie

(b. 24.12.1969) Married Anthony Robert Charles Hawes (b. 16.01.1966) on the 05.05.1995 they have 2 girls -

Olivia Ellen Dominique

(b. 07.08.1996)

Megan Emilia (b. 27.04.1999)

Rachael also has a son -James Anthony Spence (25.08.1989)

Bradley James (b. 23.10.1972)

Marie married Tony Smith

(b. )

They have one daughter -

Natalie Ann

(b. 03.10.1975) she has a daughter Charlotte Paige Bowman

(b. 08.01.1996)

Kathleen (b. 14.10.1948) who married Leonard Eames

(b. 11.08.1947)

on the 18th July 1970

They have three children:

Dublin , Ireland

Darren (b. 30.12.1970) who has a daughter -

Haily Weir (b. 28.03.2001)

Tracey Jane (b. 30.09.1973) married Shawn Ryan Pritchard (b. 30.10.1970)

on the 2nd September 1995 and they have two children -

Morgan Kathleen (b. 16.02.1995)

Jordyn MacKenzie Pritchard

(b. 09.12.1997)

Victoria Jean (b. 02.06.1983)

Kevin John (b. ) Married Edna Christine Spall (b. )

they married on 31st May 1969

They have three children:

Paul (b. ) married

Jean & John had one daughter together -

Married Phillip John England

on the 5th June 1981

They have two daughters -

Gemma Louise (b. 29.04.1981)

Kelly Marie (b. 10.06.1983) has a son -

Mason John Albert

(b. 23.10.2004)
Lettie, Jean, John

I've cut them out & put them

on the veranda in Spain

Cloverdale - Canada

Kathy, Len & Family

Back l to r: Len, Haily, Darren, Jordyn, Victoria, Kathy, Morgan

Front l to r: Keith (Vicky's boyfriend), Tracey, Shawn (Tracey's husband)

Kathy & Team

Darts BC Games
Jim & Tom at Jim's Wedding

Lettie left, Granddad at top holding Cavell, Marieam behind two ladies (No idea who they are)

Jean Eva in her Bridesmaid Dress

Granddad shaking hands with the Duke of Kent

May, Ethel Bore & Mum

Home from the Sea Three Boys

Granddad had command of her for a number of years and spoke fondly of his time on board. He was a great story teller.

Aunt Sylv, wife of Tom, as a young girl

Jean with John

Gran on a Trawler & on the Farm in Hemsby

1 Gran & Grandad with Great Aunt Lettie

2 Grandad with maybe Aunt Lettie's Husband?

1 Gran with Tommy Victory at 'Clevelands'

2 Grandad with his Mother & grandchildren

(Me, Tommy, Marie & Eva)

with heads missing John, Gran & probably one of Grandad's sisters

(Annual Event until the demise of the Fishing Industry in the late 1970's)

Uncle Bill, son Bill & Granddad on a visit to 'Wonderland' many years ago.

with Aunt Cavell & great neice

Skippers & Mates

l-r: Tom Victory, Jean Eva, Uncle Albert,

....?, Aunt May, Aunt Marieam, Gladys Meech (wife of Tom Meech), Lettie (my Mum), Marina, Marion & Vic Meech, Peg & Mick George

Skippers & Mates

l-r: ....?, Aunt Marieam, Uncle Albert, Kath Swallow, Lettie, ....?

A gathering in the Sidney Park Field Ward Street entrance

Marina Meech (Hanley) middle front, to her left Eva, Cavell & Aunt Cavell